Electromagnetic field (EMF) site survey
An Electromagnetic field site survey is a specialised screening for Electromagnetic Field Exposure in specific environments.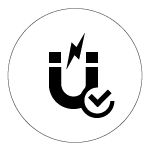 Electromagnetic fields (EMF) are universally present, yet invisible to the eye.
Concerns about the potential health effects from human exposure to electromagnetic fields are real, particularly if the rate of exposure exceeds regulations. RF exposure must be conform to the European health & safety regulations.
Hospitals, governmental institutions and trade union offices are just some of the types of organisations that request EMF health and safety site surveys.
In order to protect your safety, as well as that of your employees and visitors, we analyse individual frequency ranges and field exposure levels in all manner of both indoor and outdoor environments.
Measurements conform to ICNIRP and national standards, with results reported directly in terms of permitted limits.
Frequency-selective electromagnetic field measurements can be performed for Wi-Fi and GSM radio standards.
Wi-Fi electromagnetic field measurements with extrapolation to the maximum field strength at full load:

2.4GHz Wi-Fi band
5GHz Wi-Fi band

GSM electromagnetic field measurements with selective detection of field components due to individual cells with extrapolation to the maximum field strength at full load:

3G UMTS with P-CPICH Demodulation
3.5G HSPDA & HSUPA
4G LTE measuring of the cell-specific signals of LTE cells in FDD networks