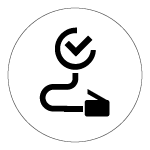 Optimise your LAN with a comprehensive IT Network Assessment!
IT infrastructure performance is largely determined by age and access to detailed overviews of the 'as-is' LAN status. In most cases, moves and changes result in a gradual loss of visibility over the years.
An accurate overview of your network infrastructure is essential for the smooth operation of your corporate network.
Advanced Networks gladly assists you in this task, helping you to increase your LAN profits as a result.
An Advanced Networks Local Area Network Assessment provides detailed reporting on your entire LAN infrastructure, including the visualisation of current copper and fibre backbone connections, IT Room infrastructure and IT cooling and fire facilities.
The network assessment is performed by an Advanced Networks Network Engineer with the purpose of visualising, analysing and documenting the client's network infrastructure.
The data is compiled during a site visit over a predetermined period and incorporates the information provided by the local IT staff. This data is combined with a comprehensive site inspection of the as-is condition of the network.
In order to furnish you with a genuine AS-IS overview of your LAN, our Network Engineer meticulously creates a comprehensive inventory of all LAN devices observed. This includes a full catalogue of identified and potentially 'forgotten' devices in your network, such as unmanaged switches and hidden WLAN access points, etc.
The key goal of a LAN Assessment site visit is to provide you with live, as-is LAN information for those world-wide facilities that are required to maximise your IT ROI.