Installation services
Every WLAN deployment starts with a cable.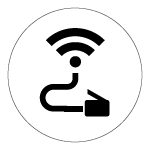 Structured cabling & WLAN installations.
Performed correctly, on time, on budget … and on your terms.
Structured cabling is the key investment on which all other network equipment depends. That's why it's imperative to partner with a professional and experienced team. We boast a strong track record in installation and our technical expertise is a second to none.
Advanced Networks ensures that your cabling infrastructure and WLAN installation is a robust connection that meets the most stringent industry standards and seamlessly supports your business technologies.
As your trusted partner, we deliver speed, value and unrivalled quality from start to finish – deploying expert project managers to maintain consistently seamless operations.
Our sales, project management and technical teams remain constantly up-to-date with the latest cabling standards and trends within your industry.
We understand your business requirements and processes and are thus able to tailor structured cabling solutions that address your specific needs.